Louisiana $1.2 Billion in Flood Mitigation Funds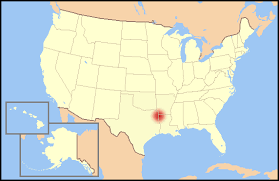 The U.S. Department of Housing and Urban Development on Friday issued long-awaited rules about how Louisiana can spend $1.2 billion in flood mitigation dollars appropriated last year.
By David Jacobs | The Center Square
The next step is for Gov. John Bel Edwards' administration to submit an action plan, which is due Feb. 3, though officials expect to submit their plan for review much sooner.
"This funding is critical to continuing flood mitigation work that began not long after the 2016 floods," said Pat Forbes, executive director of the Louisiana Office of Community Development. "We are refining our action plan, which we began to draft months ago in anticipation of receiving this notice, to meet these parameters while continuing to gather information from stakeholders around the state on how these funds can best be used to reduce flood risk."
According to federal guidelines, the state must spend at least half of the money to benefit the 10 parishes most impacted by the devastating 2016 floods: Acadia, Ascension, East Baton Rouge, Lafayette, Livingston, Ouachita, St. Tammany, Tangipahoa, Vermilion and Washington.
The money will pay for construction of flood-protection projects, data collection, and development of computer modeling to assess, predict and prepare for water movement throughout the state, officials said. The data and modeling tools are intended to help local governments select and prioritize long-term projects and support regional planning.
"The framework in place through the Louisiana Watershed Initiative helps ensure these funds are used as effectively as possible, providing maximum value and long-term impact to Louisiana communities and residents," said Bren Haase, executive director of the Louisiana Coastal Protection and Restoration Authority and a member of the Louisiana Council on Watershed Management.
A "watershed" is an area connected by the natural flow of water as it travels to reach the lowest point in a landscape. Since watersheds cross political boundaries, the Watershed Initiative , established last year, is meant to help state and local leaders make flood-mitigation decisions in a coordinated manner.
"Today's guidance from HUD is long overdue," said U.S. Sen. Bill Cassidy. "Our congressional delegation prioritized securing these funds to reduce flood risk and lower flood insurance premiums."
Source: The Center Square