Pradip Dey, Principal Scientist & Project Coordinator at ICAR-Indian Institute of Soil Science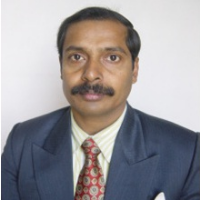 Presently working as Project Coordinator of AICRP (STCR) at ICAR-Indian Institute of Soil Science (IISS), Bhopal, with more than 24 years of post Ph.D. standing in National Agricultural Research System of India under various institutes of the Indian Council of Agricultural Research (ICAR). Dr. Dey holds a Ph.D. in Soil Science and Agricultural Chemistry from the IARI, New Delhi and a Post Graduate Diploma in Business Administration from Pondicherry University, India.
Prior to becoming Project Coordinator, Dr. Dey has served as Principal Scientist at ICAR-Central Soil Salinity Research Institute (CSSRI), Karnal; as Senior Scientist at ICAR Research Complex for Eastern Region, Ranchi Centre and as Scientist in ICAR-Indian Institute of Sugarcane Research, Lucknow. Research work as Principal Scientist/ Senior Scientist/ Scientist comprised enumeration of spatial variability of salt affected soils, spatial variability of soil fertility in watersheds of Eastern India plateau, carbon sequestration and conservation agriculture in different land-use system under reclaimed sodic soil, nutrient and crop management in watershed, root pruning-cum-fertiliser application, in-situ moisture conservation, changes in soil properties in multi-tier fruit based cropping system model and its link to wider system consideration. Having research experience as soil scientist including work related to soil and plant analysis and water management of agri-horticultural and agroforestry (multipurpose trees) system. Having experience of participatory on-farm research on sugarcane based cropping system. Also having technical expertise in leading and successful completion of a multidisciplinary and multi-location World Bank funded National Agricultural Technology Project (NATP-PSR-42) as Principal Investigator. Involved as an expert and key liaison for soil resources assessment and management in an International Project on watershed funded by Australian Centre of International Agricultural Research. Completed one consultancy project and two contractual projects.
He was Officer In-Charge of Prioritization, Monitoring and Evaluation (PME) Unit and oversaw two other important sections (Institute Technology Management Unit and Publication and Support Services Unit) of CSSRI simultaneously. He was Member-Secretary of both the Research Advisory Committee and the Institute Research Council of CSSRI. He was instrumental in developing the CSSRI Vision-2030 . Presently he is serving as Member Secretary of IISS, Bhopal. Contributed 91 research papers, 10 books, 27 book chapters, 31 technical bulletins, 54 extension bulletins; 51 popular articles and other publications with major emphasis in soil and water management as well as soil sustainability. Delivered 10 TV talks and 10 radio talks for extending technologies to farmers.
Owned two gold medals, four scholarship/fellowships including World Bank Summit Scholarship and 20 professional honours/recognition. Fellow of Indian Society of Soil Salinity and Water Quality. Recipient of 12th International Congress Commemoration Award of Indian Society of Soil Science. Peer recognitions include Founder Editor in the scientific journal named Journal of Soil Salinity and Water Quality (ISSN 0976-0806); Environmental Science and Multidisciplinary areas; Founder Honourary Secretary of Indian Society of Soil Salinity & Water Quality; Vice President, Indian Society of Agro Physics, New Delhi; Member of the Council of Indian Society of Soil Science; Vice President (2010-2011), Karnal Chapter of the Indian Society of Soil Science; Biome Expert Group Lead, ESP (IUCN), The Netherlamds reviewer of Biotechnology & Biological Sciences Research Council, UK. Fellow of the Indian Society of Soil Salinity & Water Quality, Karnal. Recipient of Social Innovator Award by the World Bank.