Pablo Llopis, Land Use and Sustainability Specialist at Freelance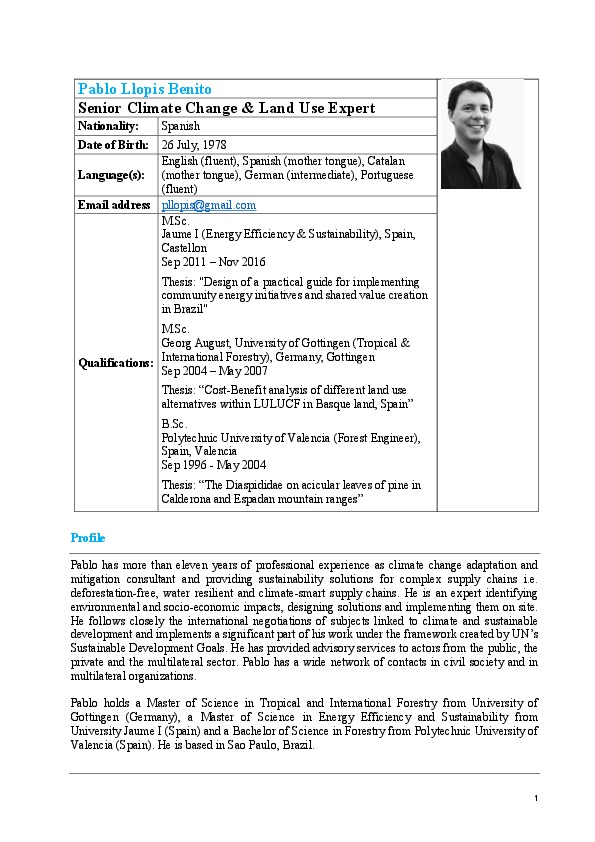 I am a land-use climate change and sustainability specialist with eleven years of experience in climate mitigation and adaptation, creating shared value in supply chains, maximising the return on impact investments and implementation of development aid programs. During my career, I had the opportunity to develop field and desk work in five continents providing solutions for multilateral institutions, private sector and Governments. I am naturally optimistic, goal-oriented person with strong communication, operational and organisational skills. Despite my strong technical character, I enjoy developing business opportunities.

I hold a Master of Science in Tropical and International Forestry from University of Gottingen (Germany), a Master of Science in Energy Efficiency and Sustainability from University Jaume I Castellon (Spain) and a Bachelor in Forestry from Polytechnic University of Valencia (Spain). I love to work in multi-cultural and ever-changing environments. I speak fluently Spanish (mother tongue), Catalan (mother tongue), Portuguese and English. I have good oral skills in German and fair writing skills. I am currently based in Valencia, Spain.