USGS Measures Flooding Across Texas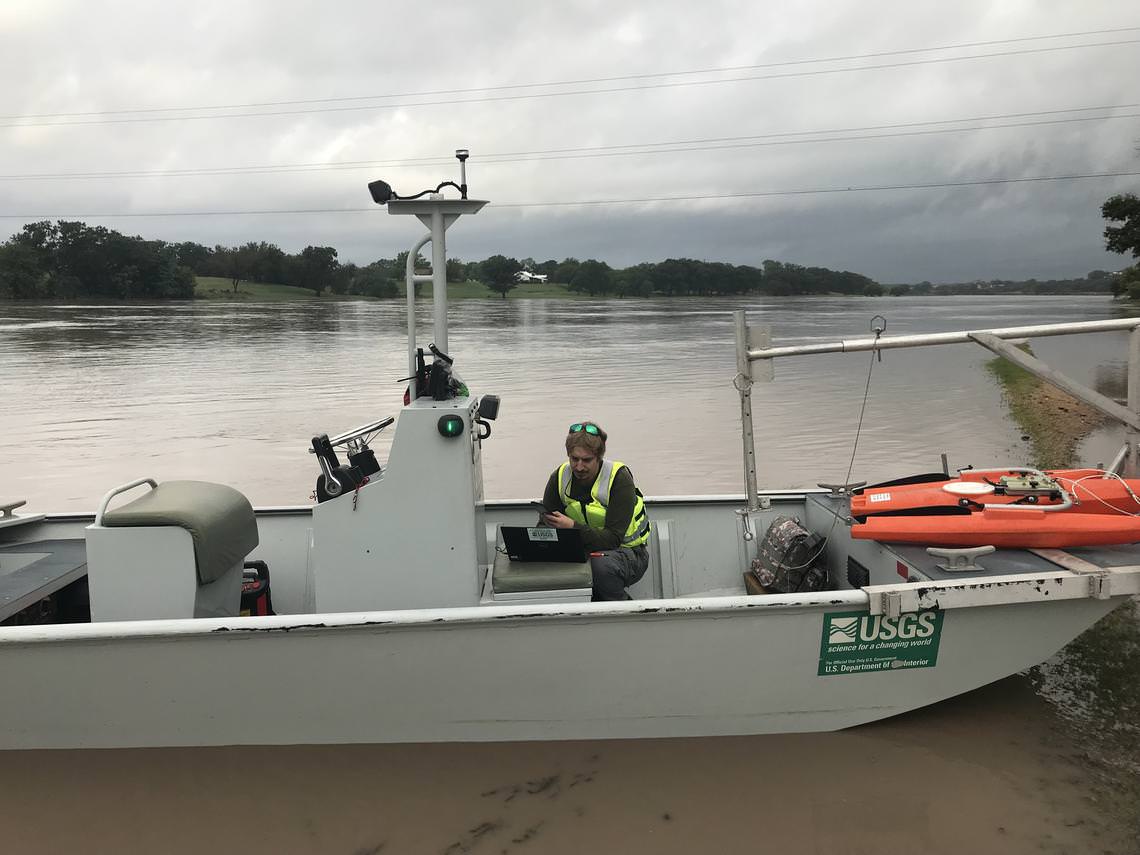 U.S. Geological Survey field crews are measuring flooding throughout Texas as rainfall moves across the state.
As of this morning, 38 USGS streamgages are over National Weather Service flood levels, and water continues to rise at 172 gauges throughout Texas. The National Weather Service has issued a flash flood watch for parts of central Texas through this evening. USGS real-time maps of flood and high flow conditions may be accessed using the USGS Texas Water Dashboard.
USGS scientist Scott Grzyb reviews high-water data collected by boat on the Llano River in Llano, Texas in response to a flash flood on October 8, 2018. (Credit: Milton Sunvison, USGS. Public domain.)
Twenty USGS field crews are measuring floodwaters and verifying streamgage operations on the Rio Grande, Red, San Antonio, Guadalupe, Colorado, Brazos and Trinity River Basins. Today, crews will be flagging high-water marks on the Llano River, west of Austin, as it nears record flooding.
As more rain is expected, the USGS will continue taking flood measurements that are critical for resource managers and emergency responders to help protect life and property. These data are used by the National Weather Service to develop flood forecasts, the U.S. Army Corps of Engineers to manage flood control, county flood control districts and other local agencies in their flood response activities.
View current monitoring data for almost 800 USGS real-time stream, lake, reservoir, precipitation and groundwater stations in Texas in context with current weather and hazard conditions at the USGS Texas Water Dashboard. Two fully-autonomous Twitter feeds distribute water level and precipitation data during flooding or severe rainfall: @USGS_TexasFlood and @USGS_TexasRain.
For more than 125 years, the USGS has monitored flow in selected streams and rivers across the United States. The information is routinely used for water supply and management, monitoring floods and droughts, bridge and road design, determination of flood risk and for many recreational activities.
Access current flood and high flow conditions across the country by visiting the USGS WaterWatch website. Receive instant, customized updates about water conditions in your area via text message or email by signing up for USGS WaterAlert. View water data on your mobile device.
Reporters: Do you want to accompany a USGS field crew as they measure flooding? Please contact Jennifer LaVista or Lynne Fahlquist.
Source: USGS