DWP and ​Hatenboer ​Airlift Three ​Mobile ​Desalination ​Units to ​Hurricane-hit ​Saint Martin ​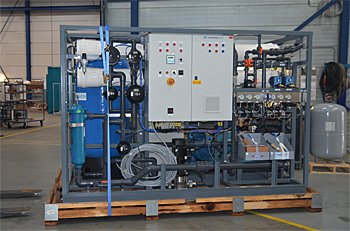 In a joint operation two Dutch water technology firms, Dutch Water Partners and Hatenboer Water, airlifted three reversed osmosis plants to the island of Saint Martin in the Caribbean.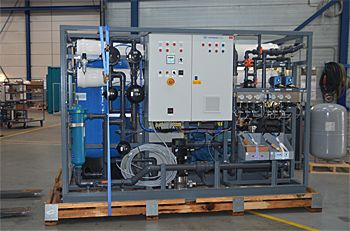 Image source: Dutch Water Sector
On request of the Dutch government to help with the reconstruction of the island, Dutch Water Partners and Hatenboer managed to deliver three mobile units to Eindhoven Airport (the Netherlands) within two days.
Hatenboer´s deliverd two RO Oceanus units with a capacity to desalinate 24.000 liter water per day.
The third unit is a RO Proteus with a daily capacity of 70.000 liter.
The aircraft flew via Curacao where it now waits for hurricane Maria to pass Saint Martin. The hurricane is expected to bring new havoc. Therefore, it had been decided to postpone the delivery as the new hurricane may pick up debris left from the previous hurricane and damage the desalination units.
Experts of DWP and Hatenboer Water have already arrived on the island to inspect the situation and look for the best places to locate the units.
In a addition to the RO-units, also mobile pumps, generators, hoses, prefabricated water storage tanks and even foldable jerry cans for the people to carry the water home, are on its way to Saint Martin.
Read full article: Dutch Water Sector